Revolutionary inkjet printer Lomond EvoJet Office is coming to european markets in few weeks.
01.01.2012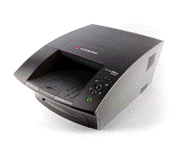 Lomond company launches through authorized distributors sales of revolutionaty inkjet printers Lomond EvoJet Office in few weeks with fastests speed of printing – 60 full color A4 pages pre minute. All informations are available on new evojet website evojet.lomond.com.

Lomond EvoJet Office printer - a revolutionary new printer with the fastest printing speed. Printer is suitable for home and commercial applications:
For home and office documents print with the lowest cost per page
For home photo printing with highest quality and speed of printinge
For commercial printing in operational printing centers with the shortest time of print job finalization
For commercial and industrial label "on demand" printing according to actual needs
Lomond EvoJet Office printers with the highest printing speed among other inkjet printers. Full color printouts with resolution up to 1600x800dpi with speed 60 pages A4 in 1 minute and 30 pages A4 per minute with print resolution of 1600x1600dpi.
High speed printing is achieved by a unique print head Memjet technology. MemJet printhead contains a record number of print nozzles - up to 70,000, comparing to other inkjet print heads its 17 times more. Prinhead job reaches speed up to 704 million drops per second. The volume of one drop is only 1 piktoliter, what represents the smallest drop volume comparing to all other inkjet printers.
Printing costs of one printed document in A4 format including all other operating costs are now up to 5 times lower than in other analogous printers.
Printing costs compare:
| | |
| --- | --- |
| Inkjet office printer | 2 рубля 56 копеек |
| Laser office printer | 4 рубля 20 копеек |
| Lomond EvoJet Office printer | 85 копеек |
Printing costs of Lomond EvoJet Office printer are lowest comparing to other printers. With 5000 sheets monthly printing capacity are total printing and ownership costs less comparing to other printers.
High capacity ink cartridges – capacity of each color ink tank is 50ml, capacity of black ink tank is doubled to 100ml. Total capacity of ink cartridge set is 9.000 b/w documents and 5.500 full color documents (ISO / IEC 24734).
Normal quality printing mode with print resolution 1600*800dpi or high quality printing mode with print resolution 1600*1600dpi for high quality photo and document printing.
Printer driver supports 12 different Lomond papers – office paper, photopaper and self adhesive photopapers. In near future number of supported Lomond papers will be increased continuously.
High durability and resistance of printer is reached with new static print head. The printer have minimum number of moving parts. Printer is equipped with 3 level printhead cleaning procedures.
Lomond EvoJet Office printer is mainly suitable for office printing, for home photo printing and for many other print jobs on different materials. High durability, low operating costs and high quality printing - all this allows the printer to provide wide range of print jobs for minimum time.