Lomond Compatible Inkjet Cartridge C5i Bk (comp. Canon PGI-5 Bk), no chip
on stock
Price (VAT incl.): 1.86 €
Price (VAT excl.): 1.55 €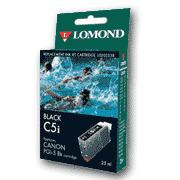 Compatible ultimately new inkjet cartridge, compatible with Canon PGI-5 Bk cartridge. Brilliant colours, high resolution and print durability, pigment.

Compatible with printers Canon PIXMA iP3500, Canon PIXMA iX4000, Canon PIXMA iX5000, Canon PIXMA iP4200, Canon PIXMA iP4500, Canon PIXMA iP5200, Canon PIXMA MP500, Canon PIXMA MP520, Canon PIXMA MP800, Canon PIXMA MX700, Canon PIXMA MX850.

Compatible Lomond Ink-Jet NEW cartridges are ultimately new. The cartridges are simple to operate, reliable and resourceful. Lomond InkJet New series compatible cartridges are a new generation product. Cartridges are reliable, durable and easy to use. Lomond Inks have been developed for each type of cartridge, taking into account the materials cartridge was manufactured from and the construction of the product. All Lomond Inks have been tested on all Lomond paper types to ensure perfect color reproduction, high resolution and durability of the printout.
Product parameters
| | |
| --- | --- |
| Product code: | 0202338 |
| Product name: | Lomond Compatible Inkjet Cartridge C5i Bk (comp. Canon PGI-5 Bk), no chip |
| EAN: | 4607008188813 |
| Weight: | 0.047 kg |
| Pcs in transportation packing: | 51 |