Lomond Compatible Inkjet Cartridge C24 Bk (comp. Canon BCI-24 Bk)
Compatible ultimately new inkjet cartridge, compatible with Canon BCI-24 Bk cartridge. Brilliant colours, high resolution and print durability.

Compatible with printers Canon PIXMA iP1000/ PIXMA iP1500/ PIXMA iP2000/ PIXMA MP110/ PIXMA MP130/ Smartbase MP360/ Smartbase MP370/ Smartbase MP390/ Smartbase MPC190/ Smartbase MPC200/ BJ i250/ BJ i320/ BJ i350/ BJ i450/ BJ i455/ BJ i470/ BJ i475/ BJ S200/ BJ S300/ BJ S330.

Compatible Lomond Ink-Jet NEW cartridges are ultimately new. The cartridges are simple to operate, reliable and resourceful. Lomond Ink-Jet NEW ink are specially developed for each model of new jet cartridges Lomond, taking into account their material properties and design features. Lomond Ink-Jet NEW ink have been tested on all grades of papers Lomond to provide accurate color rendition, high resolution and print durability.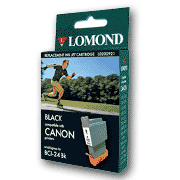 | | |
| --- | --- |
| product code: | 0202921 |
| product name: | Lomond Compatible Inkjet Cartridge C24 Bk (comp. Canon BCI-24 Bk) |
| EAN: | 4607003952976 |
| volume: | 15ml |
| ink type: | dye |
| weight: | 0.047 kg |
Alternative products
Share on Facebook