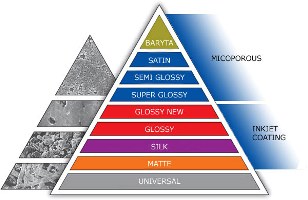 Lomond Fine Art canvases and papers are used by artists, photographers and designers for multiple purposes such as reproduction of art masterpieces, copying of ancient maps and manuscripts, making stylish art photos, posters, greeting cards, portfolios etc.
Depending on the properties of each medium one can choose those most suitable for imitation of oil-on-canvas, aquarelle, pastel, tempera, gouache painting and also art photo prints, decorative prints etc. Every medium is ICC profiled so that resulting prints have a look of vivid artwork.
All Lomond Fine Art media provide good absorption of both dyebased and pigment inks, excellent artistic imaging, exact color reproduction, high image longevity. The media of different weights and thickness are supplied in A4 and A3 sizes.
Lomond Gallery collection consists of four groups of materials: Smooth, Velour, Grainy and Linen, with the surface corresponding to the paper name. In each of these section the papers have density gradations from medium (165gsm) to high (290gsm) and by the intensity of the texture from Fine to Medium and Coarse. Each group has a special Archive paper included in it, and a paper with Double Sided coating (except Linen). All the papers, except extra bright Smooth 200 paper, have natural white tint with minor variations.