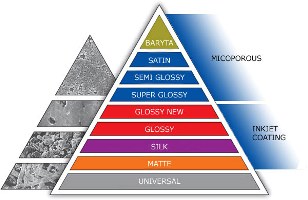 Lomond Photo Paper is a series of inkjet coated papers of different weights from 90 to 340 gsm. Single- or double-side coatings vary from rough matt to cast glossy. The paper is supplied in A4, A3, A2, A5, A3+ size and photo-size 10x15 cm.
Lomond photo paper is a universal product of high quality grade for all inkjet technologies, such as thermal-bubble jet or piezo using dye-based inks as well as pigment inks. All sorts of Lomond photo paper are specially designed and thoroughly tested for complete compatibility with any make of leading OEM printers such as Canon, Epson, HP, Lexmark and others. The paper provides resolution up to 5760 dpi, fast drying and solid inks fixation; thus providing exact color reproduction and high image longevity.
The paper is supplied in the following formats: A4, A3, A2, A5, A3+, 10x15cm, density from 160 to 340 gsm.