Print your own ... balloon, calendar, photo frame ...
20.02.2020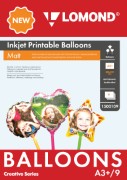 A new series of creative products for individual printing of inflatable balloons, calendars and canvas prints on any home and office inkjet printer.

Balloons for inkjet printers

White Matte Balloons for inkjet printing with your design. Ready to print, suitable for printing on any inkjet printers. Balloons with a unique pattern are ideal for creating a unique atmosphere in the design of all kinds of festive events, especially children, will be an original gift for both adults and young guests. On our balloons you can capture all the most important events, they will be a decoration and an integral part of any celebration, will cause a lot of unique emotions.


Calendars

Inkjet desktop calendar for printing custom design. Print the custom calendar on any inkjet printer. Easy to assemble, thanks to the use of innovative rings that connect in seconds.


Inkjet Canvas and photo frame

Frame and canvas system is on easy system. Allows you to print your photos on a quality art canvas at home in minutes, on any inkjet printer. You can glue the printed canvas to a specially designed plastic frame by yourself. Thanks to the adjustable plastic stand, the canvas on the subframe can be mounted on a plane.