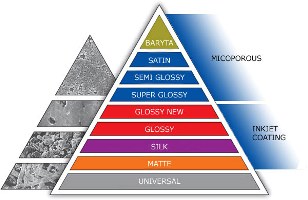 Matt papers are most popular due to the best price/quality ratio. Images printed on matt paper are glare-free, lines have good contrast, pure tints have a typical velvety depth. Matt papers are best suited for printing such images, which should not tire eyes (for instance, illustrated texts) for they provide high contrast and image detail reproduction.
Matt papers are inferior to glossy ones in color gamut especially for high-saturated and dark tint grades. Lomond matt papers are manufactured using Lomond A (A grade) and B (B grade) technology. They are completely compatible with both dyebased and pigment inks. For lightweight sorts it is advisable less ink "pouring". The inks are quickly absorbed and dried up. Printed image is moisture-resistant. Lomond single- and double-sided matt papers are used for printing photos, advertising leaflets, business and greeting cards, portfolios and many more.
Lomond double-sided matt papers (just as one-sided) are used for printing of photorealistic booklets, handbills, portfolio, photo portraits, etc. For "light" types of paper, a moderate ink "flooding" of the sheet is recommended. Average and high density papers are used at intensive "flooding". Ink penetrates fast and dry, herefore the other side of the sheet can be used for printing immediately.